---
5 essentials on your network audit checklist
---
AUTHOR JOHN KOENIG / PUBLISHED: JULY 30, 2019
Seek advice from network professionals who have years of auditing and assessment experience – Trifecta Networks.
An IT network audit is essential to ensuring sure your network is performing reliably for everyone in the organization. Yet many organizations put it off: too time-consuming, not enough staff, and worries about how much a hardware upgrade might cost. And there's another underlying question: Do you have design expertise in the latest standards or performance specs to pull it off successfully?
Here are five elements your IT network audit needs to include:
Network audit essential #1 – bandwidth
Who is connected to your network at any given time? Is the distribution and usage keeping up with demand? Prioritizing applications, getting a clear picture of where congestion is occurring can go a long way toward managing traffic and improving network performance.
Getting a handle on your bandwidth is an effective alternative to reducing usage or increasing capacity. A professional network audit from Trifecta Networks can tell you quickly where any bottlenecks are occurring and help you find the most solutions.
Network audit essential #2 – cybersecurity strength
As we've seen with recent high-profile ransomware attacks on cities, healthcare agencies and government agencies, has shone a light on a problem that disproportionately affects businesses.
BYOD – workers using personal devices at and for work – poses a security risk to the network. It can be addressed with several simple, cost-effective fixes: creating a strong BYOD policy, requiring multifactor authentication and strong passwords, and using proper encryption practices. Network monitoring software is another defense; it allows you to see who is on the network and what they are doing.
However, a network security survey is the best way to detect threats. Trifecta Networks has the resources to help your team deploy the armor you need in the age of cyber threats.
Network audit essential #3 – infrastructure issues
Keeping patches and firewalls up to date, assessing network traffic patterns and identifying anomalies are three steps you can take to do a checkup of your IT infrastructure. While there are mapping tools out there to help you perform an evaluation, working with credentialed professionals can pinpoint issues quickly and precisely, saving your team diagnostic time and money in the long run.
Network audit essential #4 – Data and file security
Network security begins with the management of data and files. They can cause security issues if they are not secure. If they are sensitive, such as financial or healthcare information, they can open your organization up to potential regulatory violations.
Begin your file security audit by removing the public setting for folders and devices and assessing who should be given access to potentially sensitive information. Consider scheduled file audits to keep a watch over access and changes to sensitive documents.
Network audit essential #5 – Consider an upgrade
The idea of upgrading your IT network might seem daunting, but your organization will need one sooner or later with Wi-Fi, Cat 7 and Cat 8 cabling, and compatible hardware on the horizon. It's no different than getting your oil checked or that annual trip to the dentist. In the end, what is it worth to make sure business-critical operations run smoothly, end users stay productive and satisfied, and DR strategies are in place when emergencies or natural disasters strike?
In the end, time is money. Keep your IT team focused on daily tasks and critical operations. Trifecta Networks can help you perform a rock-solid audit that meets your individual organizational needs.
Contact us today for professional IT services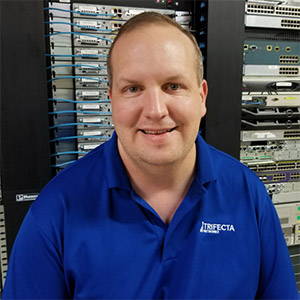 John Koenig is the Senior Technical Manager for Trifecta Networks. As manager of our Engineering Lab, he both tests and recertifies preowned equipment for redeployment. John stays up to date on the latest technology to write and maintain automated tests for our lab. He also uses this knowledge to provide training and technical support to our customers and staff. Cisco-certified, he has 27 years' experience in telecommunications/network engineering, specializing in test lab management and design, technical training, and test automation. Certifications:
Cisco- CCNA Routing and Switching, CCNA Wireless; Extreme Networks- Extreme Network Associate; ShoreTel- Certified Installer, System Design Certification; Quali- TestShell Certified