---
How to protect your agency from ransomware
---
AUTHOR JOHN KOENIG / PUBLISHED: JULY-18-2019
Every municipal organization – and business, for that matter – is vulnerable to malware attacks
Recent security breaches in Florida, Maryland and Georgia show that protecting cities and government agencies from ransomware is not an option; it's an absolute necessity.
Hackers in three Florida municipalities, the city of Baltimore and the Georgia courts system are just the latest in a long line of targets slapped with hefty ransoms to decrypt hijacked files. Cryptocurrency, particularly Bitcoin, is the payment method of choice for hackers because it is untraceable.
What is a municipality to do?
Experts say paying ransom opens the door to future attacks. Refusing to pay may reduce that risk but it costs more money and restoration time. Either option is a lose-lose for targets and taxpayers.
In June 2019, Lake City, Fla., paid hackers close to $500,000. Insurance picked up most of it, but taxpayers were left to pay up the $10,000 deductible.

Also in June 2019, Riviera Beach, Fla., paid nearly $600,000 to hackers after an employee opened a corrupted email.

In May 2019, the city of Baltimore refused to pay a $75,000 ransom; the result was an $18 million bill to replace IT equipment.

In 2018, the city of Atlanta refused to pay a $51,000 ransom but ended up paying about $17 million to overhaul its IT system.
It's telling that more than 150 companies now offer ransomware insurance.
Ransomware – a crime of opportunity
Every municipal organization – and business, for that matter – is vulnerable to malware attacks. Those with non-updated equipment and limited resources are most at risk. As the Brookings Institution recently reported, ransomware attacks are random: "The process is very similar to burglaries in which the criminals do not target a specific home, but rather cruise neighborhoods to find houses that do not seem to have security systems."
How cities can prevent cyber attacks
Cyber security is a twofold process. It starts with training: educating users on how computer viruses are spread and how to identify red flags. It means teaching them the principles of operational technologies (OT), a means of directly monitoring unusual events in the system.
Second, with ransomware, cryptojacking and doxware continuing to morph, government agencies need to armor up. That means strong password protocols, security audits, patching operating systems, and adding antivirus and sandboxing software. Because even backups have become vulnerable to ransomware, it's also important to back up data offline.
Need ransomware advice?
Cities are trying to send a unified message. In July 2019, mayors from around the country met in Hawaii to sign a document, the Data Protection and Edge Resolution, urging the federal government to protect against cyber attack risks. Until it's possible to prevent hacking attempts, preventive measures go a long way toward deploying a rapid response.
We offer highly experienced, wide-ranging professional services to remediate issues created by cyberattacks.
Call 866-771-9785 or contact us by filling out the field below.
Contact us for more information in how to protect your agency from ransomware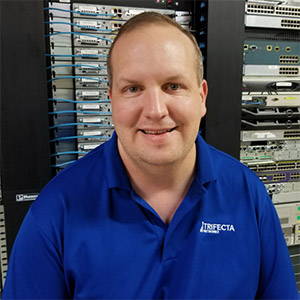 John Koenig is the Senior Technical Manager for Trifecta Networks. As manager of our Engineering Lab, he both tests and recertifies preowned equipment for redeployment. John stays up to date on the latest technology to write and maintain automated tests for our lab. He also uses this knowledge to provide training and technical support to our customers and staff. Cisco-certified, he has 27 years' experience in telecommunications/network engineering, specializing in test lab management and design, technical training, andtest automation. Certifications:
Cisco- CCNA Routing and Switching, CCNA Wireless; Extreme Networks- Extreme Network Associate; ShoreTel- Certified Installer, System Design Certification; Quali- TestShell Certified