Ruckus SmartZone network controller capabilities
The Ruckus family of SmartZone network controllers offers management of wired and wireless networks, and Wi-Fi control, in a single easy-to-deploy system. It can scale up to 450,000 devices supported across geographically dispersed, redundant clusters and can address the needs of the largest organizations and operators with multi-tier tenancy support.
Ruckus's approach accelerates large-scale network creation using a single, automated discovery process for all switches and APs. It allows easy creation of common policies across wired and wireless networks.
Here's how to set up, monitor and manage a large-scale network with a SmartZone physical or virtual appliance controller.
SmartZone is intuitive, powerful and web-based. If you're managing the network for a large organization or a service provider, everything can be visible and centrally managed right from your browser.
SmartZone network controllers allow you to see the status of all clients' switches and APs through an integration with Google Maps. That way, it is easy to locate devices across a large area. You can see more details when clicking on the map for a specific access point or client.
SmartZone allows you to monitor the health of all switches and APs. They can be organized by logical domains, zones and groups to match the structure of your organization. Click on a switch to see the status of each port and monitor traffic at the switch or group level. Ruckus SmartZone allows you to see network devices' firmware history and upgrade a group of switches or APs all at once. This saves valuable time and ensures consistent firmware level between devices. The system also easily navigates from a switch to a directly connected AP with a single click. This saves time when troubleshooting connectivity issues across wired and wireless networks.
Solving connection problems with SmartZone network controllers
One helpful SmartZone feature is its visual connection diagnostics (VCD) tool. It allows IT to troubleshoot client connection problems in real time by breaking up the client connection process into stages and helping to pinpoint the stage at which the failure occurs. The VCD tool can help an IT help desk troubleshoot the most common user connectivity problems in minutes, from wireless issues to mistyped passwords. Its analytics allows you to better understand how your network is being used: by traffic, to see which applications are generating the highest traffic volume.
Automated network management
Unlike closed systems, SmartZone exposes an extensive collection of open APIs. IT staff can programmatically invoke any function offered through the UI to automate network management processes. SmartZone OS streaming API lets third-party applications ingest all network statistics in near-real-time. This makes it easy for IT to integrate with their preferred reporting and analytic system or build a custom monitoring dashboard for the network operation center personnel.
Network demand grows and changes constantly. Whether you're adding new devices, troubleshooting connectivity problems or seeking ways to customize the user experience, Ruckus SmartZone makes the process faster and simpler.
Contact us today for a Ruckus wireless network solution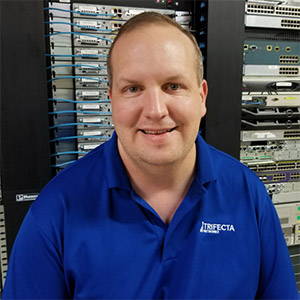 John Koenig is the Senior Technical Manager for Trifecta Networks. As manager of our Engineering Lab, he both tests and recertifies preowned equipment for redeployment. John stays up to date on the latest technology to write and maintain automated tests for our lab. He also uses this knowledge to provide training and technical support to our customers and staff. Cisco-certified, he has 27 years' experience in telecommunications/network engineering, specializing in test lab management and design, technical training, andtest automation. Certifications:
Cisco- CCNA Routing and Switching, CCNA Wireless; Extreme Networks- Extreme Network Associate; ShoreTel- Certified Installer, System Design Certification; Quali- TestShell Certified