Reliable and Cost-Effective 3rd Party Maintenance Solutions by Trifecta Networks
Our 3rd party maintenance solution is designed to preserve your technology investment. Completely customizable in scope, it encompasses on-site labor, hardware sparing and the hyper-responsiveness we're known for.
Why Consider Trifecta as an Alternative to OEM Support Contracts?
OEMs suggest upgrading equipment every three years, but most hardware has an effective life of 10 years or more. Upgrading on their timeline can leave you with fewer dollars to spend on other critical IT projects. Furthermore, as equipment ages the cost of OEM support increases while their coverage and the options they offer decrease or even end completely. Partnering with Trifecta will allow you to stretch your budgets without sacrificing quality or peace of mind in ways that working with the OEMs simply cannot.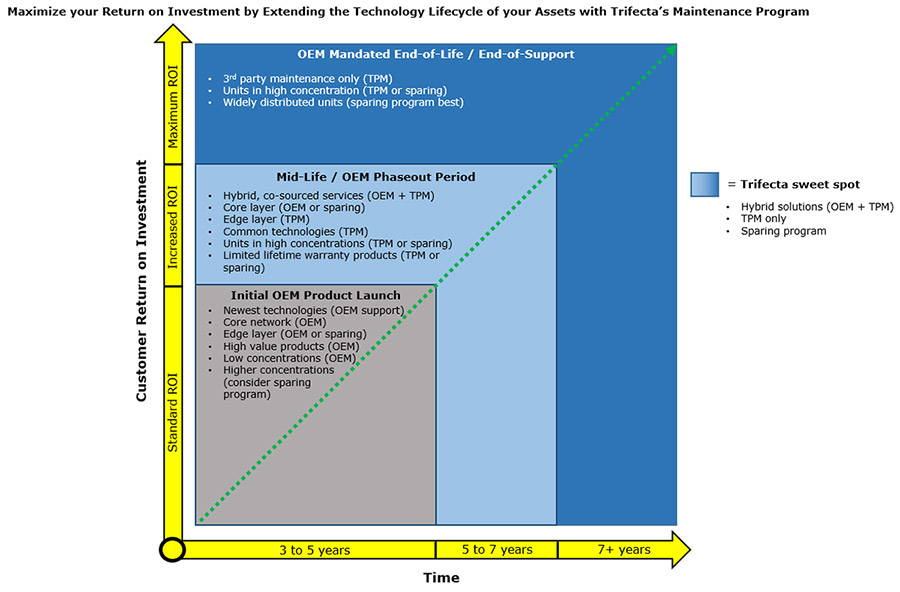 What 3rd Party Maintenance Can Mean for You
Fully customizable options – no limits on what we cover (even end-of-life equipment), both four-hour and next business day SLAs
Hybrid solutions - mix OEM and 3rd party support if needed
Savings – pricing that's 40%-60% below OEMs
Flexibility – use your equipment for as long as it makes sense to you, not the OEMs
How Trifecta's 3rd Party Maintenance Works
Choose from four-hour maintenance programs or next-business-day solutions, all customized to fit your needs and budget. You'll see significant savings over OEM options and keep your legacy platforms protected.
Parts, spares and labor at the ready
Equipment located in stocking locations where you need them
Trained and certified engineers ready to implement and install
SLA replacements for current, end-of-life and end-of-support products
On-site and remote technical support
Customizable on-site technical support that meets your SLA requirements
Real time, scheduled install and break/fix available
One number to call
Get what you need, when you need it
When you partner with Trifecta Networks, you'll realize superior support levels while also meaningfully reducing support costs. Get on-demand service without locking into costly OEM contracts, and get instant access to experts offering the level of support required by site or product:
Our Network Operations Center (NOC) staff can answer calls, process replacements and arrange for on-site service
Our senior engineers assist the NOC in complex configuration and troubleshooting scenarios, ensuring optimal customer satisfaction and quick problem resolution
On-site engineering support can be deployed when and where required to meet customer demands across any of our product offerings

Whether you need help same-day (four-hour window) or next business day, Trifecta has on-hand inventory and technical resources across the United States and globally to keep your operation running smoothly.
Think of us an extension of your team.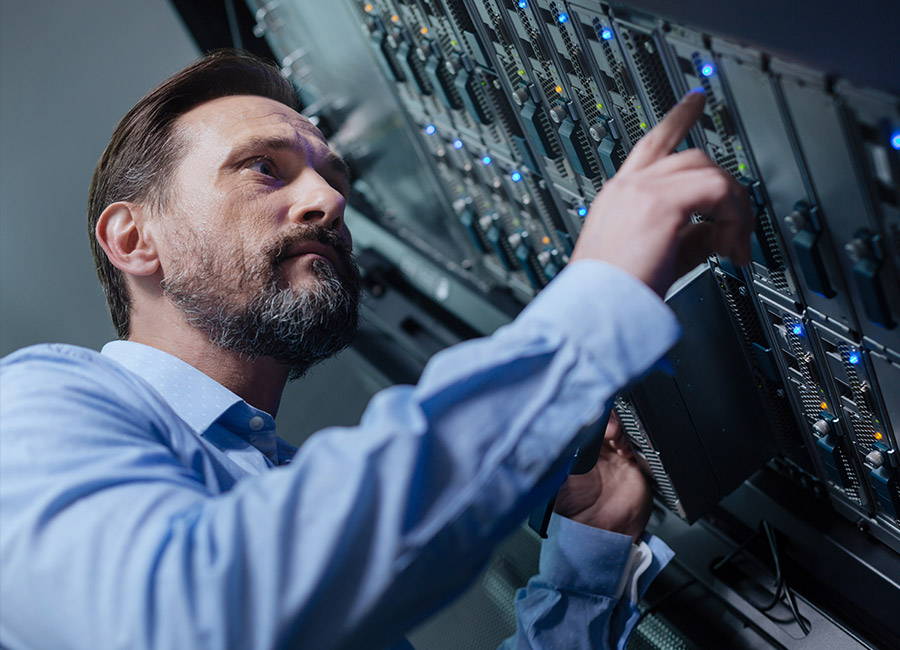 Contact Trifecta Networks
"TPM contracts will offer customers an average of 60% savings off of OEM support list prices. However, depending on equipment type, location and product density, Gartner has seen that the range of savings with TPM contracts is 50% off OEM list up to 95% off OEM list."
Gartner, Competitive Landscape: Partnering With Third-Party Maintenance Providers for Data Center and Network Maintenance Cost Optimization, July 2017