Reliable Support and Service
Trifecta Networks services covers all of your wireless networking design, deployment, and troubleshooting needs. These include enterprise wireless, indoor wireless, outdoor wireless, RFID, location tracking, voice over wireless, consulting and support. Many installations kick off with a site survey, where we will apply the latest technology and data capture methods to assess requirements and performance factors.
From here, we will handle all phases of design and installation in both indoor and outdoor environments. Each Trifecta solution incorporates best practices in wireless security, whether for typical requirements or highly sensitive or regulated industries such as healthcare or financial institutions.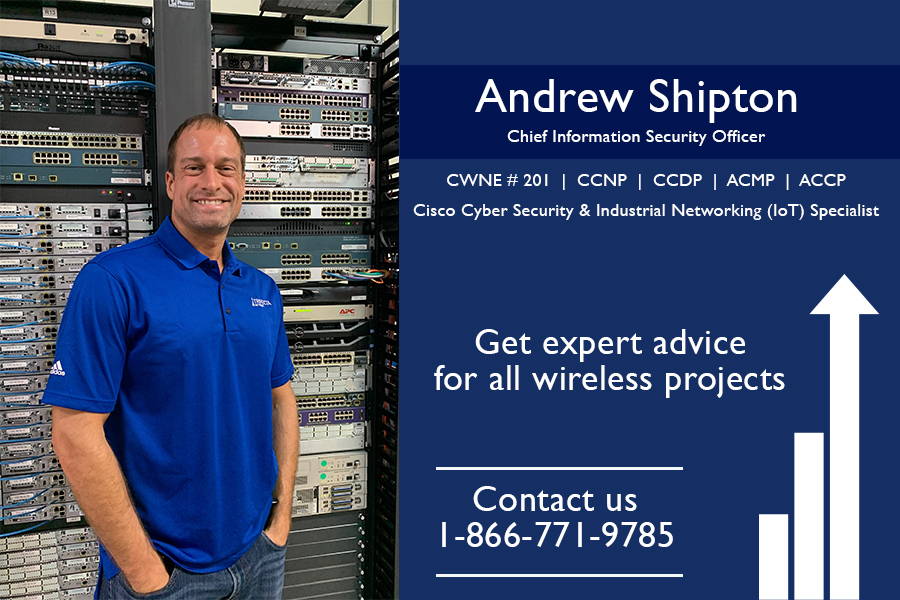 Need support or a quote on a wireless solution? Contact Trifecta Networks today!
Your needs change, technology evolves. Our wireless solutions stay ahead of the curve – ready with robust, reliable support that matches your needs at every stage. And when you need professional services for your wireless network, Trifecta Networks is your go-to partner. We offer installation and deployments, site surveys (physical/heat maps), consulting, design and wireless network cabling.
Trifecta Networks' wireless services and support
RF audits and site surveys
Our site survey team is equipped with custom site survey kits that are fully self-powered and eliminate the need for a man-lift on site. We can perform onsite RF site survey activities in the busiest of facilities without disrupting daily activities. Trifecta also offers RF Site Survey Lite for smaller facilities, or sites that do not have challenging coverage needs, or locations with lower-data rate applications.
Wireless network troubleshooting
With mission-critical applications running on your wireless network, you cannot afford extended downtime and loss of end user productivity due to intermittent problems. Trifecta Networks' team of certified technicians can properly solve these problems quickly and effectively. Our technicians are equipped with the latest diagnostic tools such as spectrum analyzers and have both industry and vendor-specific certifications. Our knowledge and proven troubleshooting strategies will insure your wireless issues are resolved in a timely manner whether they are infrastructure or client-side problems.
Network design
Our extensive experience in VoW-LAN designs and implementation services assure that your voice-quality 'over the air' communications are secure and reliable.
Wireless installation services
Trifecta wireless installations follow a proven methodology to ensure your project is on-time and within budget. After initial configuration and installation and integration phase, Radiant will validate and optimize performance to seamlessly support end user applications.
Wireless installation methodology
Staging and configuration

Installation

Integration

Validation

Optimization
Indoor applications
Today's indoor wireless networks have evolved from casual connectivity requirements to supporting mission-critical applications. Ensuring your applications end users starts with the right design. Trifecta Networks' proven methodology of wireless design, installation, and validation will ensure your wireless network meets your current requirements and provides a platform to add the new application demands of your end user community.
Outdoor point-to-point and multipoint
Do you need to connect users in separate buildings? Today's wireless technology is a very reliable and cost-effective alternative to fiber. Trifecta Networks has the engineering talent to do the path analysis, design, and installation needed to create a robust network that meets your needs.
Spectrum analysis and wireless security
Trifecta Networks offers a wide range of spectrum services covering frequencies from 900 megahertz to 6 gigahertz. Healthcare facilities are rich with dissimilar RF systems deployed. Whether it's telemetry, radiology, indoor cellular, or infant monitoring systems, Trifecta Networks offers a wide range of professional-grade tools and reporting capabilities to ensure that your mission critical RF deployments and applications can co-exist.
Wireless consulting
Trifecta Networks' consulting services can save you money, uncertainty, time, and frustration. Our certified wireless professionals will work with you on design, optimization, evaluating alternative solutions, and implementations. Our specialized knowledge and standards of excellence will help you keep your wireless project on time and within budget.